COVID-19 CLOSURE UPDATE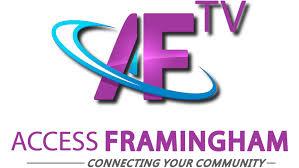 Access Framingham will be closed until further notice. Please click the link below to read more. 
Dear Members and Friends,
In light of the continuing concerns regarding the COVID-19 outbreak and the recommended precautions of social distancing and no gatherings, AFTV facilities will remain closed until further notice.
We take the health of our staff and our members seriously and are implementing this closure in an effort to limit potential exposure for you and for us.  
We will continue to monitor information about the COVID-19 outbreak and will evaluate the availability of our member services. We will keep you up to date by email. We will forward information about the COVID-19 outbreak as we receive it. 
Remember:  
Wash your hands frequently for at least 20 seconds with soap and hot water.
If soap and water are not available, use an alcohol based (at least 60%) hand sanitizer. 
Avoid touching your face, eyes, nose, mouth
If you have symptoms, stay home!
Cover your cough / sneeze with your elbow or a tissue. Throw the tissue away and WASH YOUR HANDS.
Clean and disinfect objects and surfaces often.
CALL FIRST.. if you have symptoms and plan to seek medical care, call your healthcare provider first. Healthcare partners need to prepare for people who are showing symptoms, or direct you to the appropriate resource. 
Steer clear of illness... try to avoid people who are sick.
Information about the COVID-19 outbreak can be found here:
https://www.cdc.gov/coronavirus/2019-ncov/index.html
https://www.mass.gov/resource/information-on-the-outbreak-of-coronavirus-disease-2019-covid-19
Thank you for your patience and understanding as we all work through this challenging time.
Scott Mercer
Executive Director